Please note this guide only applies for the use of SkillsFuture credits. For use of SkillsFuture training grant and absentee payroll, email us at training@lentorambulance.com to make the booking.
Step 1:
Ensure that the course you intend on applying for is elligible for the use of SkillsFuture Credits. Eligible courses are shown below
BCLS+AED Full Course
Standard First Aid Full Course
Standard First Aid Refresher
Occupational First Aid Full Course
Occupational First Aid Refresher
On the respective course page, select "Find available dates" and proceed to book the course by providing your details.
For payment method, please select SkillsFuture Credits instead of Paypal. You will receive an email confirmation for the course booking.
After receiving the email, please provide to next step to submit a claim on the SkillsFuture website.
Step 2:
 You may click on the courses below to be directed to the SkillsFuture page to proceed with the claims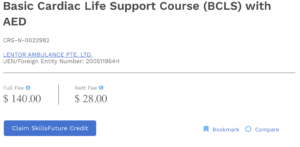 Click on claim SkillsFuture Credits as shown in image below and login with Singpass. 
In the claim form, you will be required to provide supporting documents to prove that you have booked the course. Please upload a screenshot of the email confirmation we sent you.
Step 3:
Shortly after submitting the claim form, SkillsFuture will send you an email to confirm that your claim and funds disbursement is successful. You are required to forward this email to us at training@lentorambulance.com . We may reject your payment should you not complete this step before attending the course. Thank you
Should you have any queries regarding the use of SkillFuture Credits, do contact us at training@lentorambulance.com